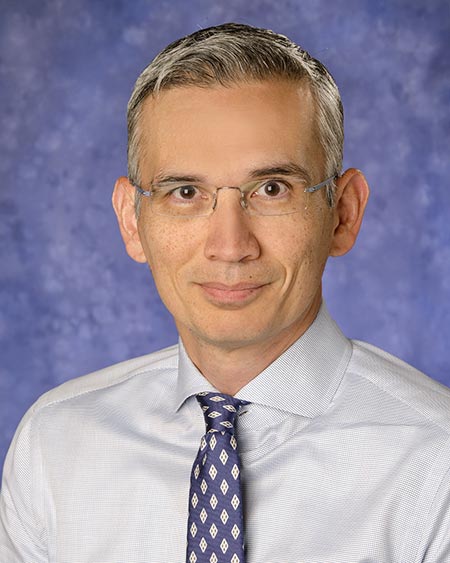 Clinical Interests:
Vascular and Interventional Radiology
Breast Radiology
Board Certification:
American Board of Radiology, Diagnostic Radiology, 1998
Professional Training:
Fellowship
Mount Sinai Medical Center, 1998-1999
Interventional and Cardiovascular Radiology Fellowship
Chief Resident
University of Medicine and Dentistry of New Jersey
University Hospital, 1997-1998
Residency
University of Medicine and Dentistry of New Jersey
University Hospital, 1994-1998
Radiology Residency
Undergraduate
Rutgers The State University, Livingston College Campus
Bachelor of Science, Biology, 1986-1990
Graduated with Honors
Experience:
Evansville Radiology, PC, 2001- present
Radiology Services, PC, 1999-2001
West Burlington, IA
Biography:
Dr. Gonzales was born in Bergen Country, New Jersey. As an interventional radiologist, he specializes in minimally invasive image-guided procedures to diagnosis and treat disease. Common procedures include vascular access, percutaneous biopsies, percutaneous drainage procedures, dialysis graft and fistula evaluation, vascular stenting, and nephrostomy tubes.
During his training, Dr. Gonzales was involved in multiple research projects, including papers presented to the American Society of Emergency Radiology and the Society of Gastrointestinal Radiology. He has had research published in Radiology, American Journal of Radiology, Journal of Neuroimaging, and Journal of Compter Assisted Tomography.
Dr. Gonzales has earned praise from the Deaconess Hospital System for excellence in patient interaction.  He is not only actively involved in vascular and interventional radiology, he also regularly staffs the Deaconess Breast Center working to provide state of the art breast care to women in the Tri-State area.
Professional Memberships:
American College of Radiology
Radiologic Society of North America
Indiana Radiologic Society
Vanderburgh County Medical Society
Indiana State Medical Association
Society of Interventional Radiology